Communications
Business communication is perhaps one of the most important elements of business success.
Whether it's communicating with customers, partners, sponsors or stakeholders, all businesses should have a communications strategy in place if they want to effectively convey all elements of their business.
We provide communications solutions to enhance your business
As a leading communications agency, we can help you to establish your business's voice, setting you apart from the competition and identifying you as an industry leader.
Communications Audit
Establish meaningful and achievable KPIs
Our communications audit service includes:
what our clients say
Always extremely professional...

"Champions are always extremely professional, questioning proposals and looking for different ways to approach the client's briefs. They are always open to new ideas and relevant opportunities from ITV to put forward. We look forward to continuing with our relationship for many years to come and developing new clients into the ITV portfolio."

Nothing is too much trouble!

"Champions (UK) plc was an essential part of our team, as we successfully launched Heat Holders in the USA and Canada. They are highly driven, proactively generating marketing strategies, communications campaigns and creative ideas that make a difference to our brand. They have developed a productive and effective partnership with us that is completely in-tune with our company ethos and commercial approach. Nothing is too much trouble for their family and enthusiastic team."

Professional, friendly and helpful!

"I have worked with Champions for over two years now, and have always found the staff to be professional, friendly and helpful. They work in a methodical way and always remind me in advance when deadlines for copy, adverts etc are looming! They communicate regularly and their attention to detail is spot on. I am particularly impressed with the quality and depth of their 'Press Reviews' which provide a comprehensive overview of the coverage received."

April Wickens

Jaguar Land Rover

They do their homework and this is a refreshing change!

"Where some PR companies have a 'lucky dip' approach in terms of which clients to pitch to our magazine, Champions get it right. They do their homework and this is a refreshing change. The staff at Champions (UK) plc are friendly and helpful, not just to us but also and most importantly, to our readers (when they have to get in touch with them in relation to competitions and such). Makes our working life easier."

Karen Griffiths

Yours Magazine
Establishing your brand
In an increasingly competitive landscape, it's important for brands to establish themselves both online and offline.
Communications can help businesses tell a positive story, highlighting exactly what makes them different to all the other brands out there and ultimately, why customers should choose them above the competition. Our communications team can also help you to solidify your tone of voice across various platforms.
With our Communications services, you can:
Effectively engage with your target audience

Generate cost-effective results

Increase brand awareness with rich content

Strengthen your SEO rankings and overall website
OUR COMMUNICATIONS PROCESS
Step 1
We will identify your aims and objectives, before conducting research and analysis into your audience, competitors, and the wider market.
Step 2
With the above information, we'll begin with your strategy creation which includes media mapping to ensure you're always up to date.
Step 3
We'll work closely with you on your campaign delivery and will regularly monitor your campaign, reporting on monthly deliverables.
Step 4
Our comms experts will always look for new and exciting ways to enhance your overall business communications to continue generating the best results.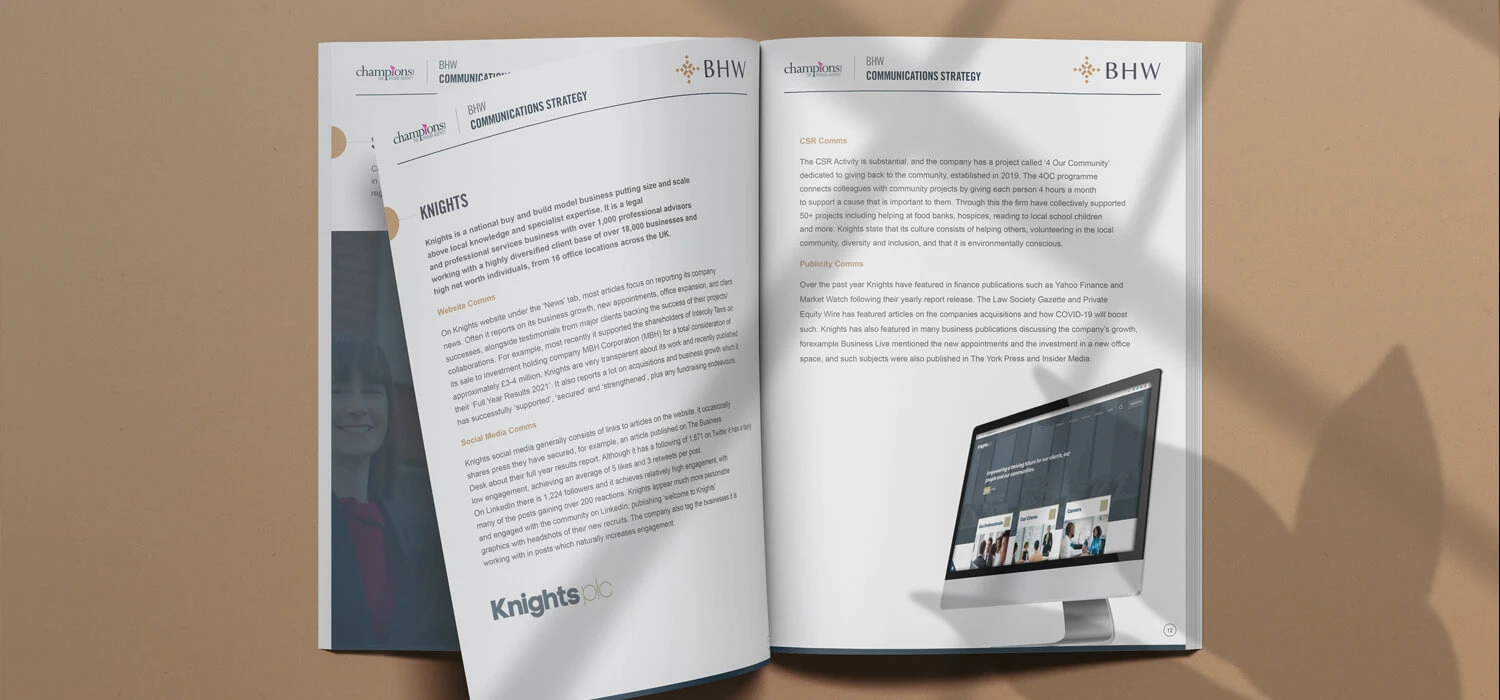 Enhancing your opportunities for growth
A marketing communications strategy can be applied across various platforms to help your business to develop a multichannel strategy.
By effectively communicating your brand, you can experience new opportunities for growth and economic success while reaching out to new and existing audiences to build long-lasting relationships with the right people. As a brand agency, we fully understand the power and need to protect your brand's voice and values in everything you do. Therefore, our communications team will produce rich and engaging content to help you stand out from the competition and ensure your name is associated with reputable media outlets, businesses, and talent.
Certified communications specialists
Working with a wide range of companies, we can deliver leading communications solutions to achieve your unique goals, whatever they may be. Get in touch with us to day to find out how we can help you.
WE'VE SUPPORTED AND HELPED GROW