Digital Strategy
Elevate your digital performance with a comprehensive Digital Strategy
As part of our digital strategy and consultancy services, we are on hand to help you learn how to improve your business's performance in the digital landscape. We take a holistic view of your business's digital footprint, analysing data and apply this to create a comprehensive Digital Strategy.
Advance in the digital landscape
Whether that means reimagining your digital advertising to hit business objectives or a complete digital transformation to better target your preferred customers, our digital strategy will outline a clear roadmap for digital success.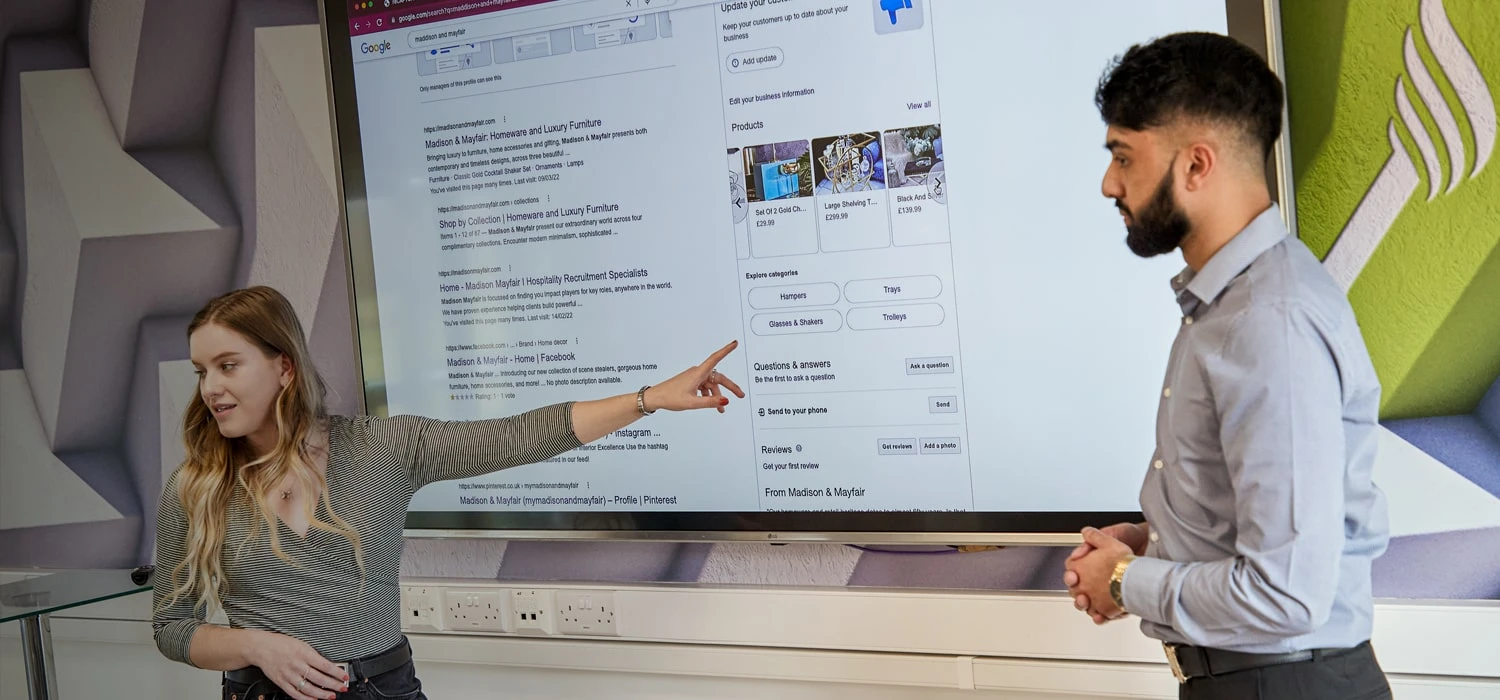 Search Engine Optimisation (SEO) Strategy
The correct SEO strategy will set your company up for long-term sustainable success.
The correct SEO strategy will set your company up for long-term sustainable success that enables you to achieve your corporate objectives. As part of your strategy, you'll be presented with ways you can optimise for both on-page and off-page SEO.
Adapt to fulfil advancing digital requirements
Our digital strategies enable your business to grow, compete, and generate ROI
No matter what your industry, there will inevitably be times of pressure and expectancy to meet consumers' digital demands. A digital marketing strategy can help you to navigate your business through a fast-paced, competitive digital landscape with innovative digital solutions that can be seamlessly integrated into your business, whether it be digital transformation, streamlining customer journey processes, providing tangible data insights, or integrating digital platforms.  
We will help you to digitalise your business regardless of your industry to help you stay relevant and beat the competition. Better yet, by following an informative digital strategy, you can aim to better meet the needs of your customers and fulfil your business's purpose in a more seamless and streamlined way, creating positive user experiences, every time.
With our digital strategy services you can:
Successfully reach your target market, wherever they are

Generate ROI

Quantify results across your digital platforms

Expand your presence digitally
OUR DIGITAL STRATEGY PROCESS
Kick Off
We learn what your goals are, understand the tools you use, and asses what your current digital environment is
Research
We analyse your overall performance within your industry, and look at core competitors to understand what opportunities there are for your business
Planning
We produce a detailed plan of what your business should focus on to generate the quickest results and best ROI long term
Roadmap
We prescribe a clear action plan that you can use to deliver results. You can also work with our experts to drive your digital strategy forward
Digital strategies with Champions
Our digital strategies are based on expert insights, including competitor analysis and market research, and are tailored to reflect your unique digital marketing goals.
Digital marketing strategies are delivered in line with overarching business objectives and will take existing digital marketing activity into consideration, while also being created to accommodate two, five and ten year marketing plans, dependant on your specific requirements. The Champions Digital team offers strategic guidance throughout the creation and delivery of the strategy, ensuring everything is performing as it should be, and advising on any areas of improvement as and when they arise.
digital strategies
Created with your business goals in mind.
Find out more about how the Champions Digital team can work with you to create an informative digital strategy to guide your business on its journey to digital success.