What an amazing decade it was! From 2010 to 2019, we were blessed with some of the funniest, most interesting and most dramatic brand campaigns we've ever seen. With brands both old and new stepping up their game for the 2020s, we thought it'd be the perfect time to reflect on the best brands of the last decade. 
From fast-food chains to globally renowned tech companies, businesses around the world have put together winning marketing strategies that have not only nurtured new prospects into customers but also helped them retain a loyal customer base.
With the commercial environment more competitive than ever, businesses need to find innovative ways to get their name to stand out from the crowd. Here are 10 brands we believe managed to do just that.
1. Airbnb
Airbnb has seen unprecedented levels of growth since its launch in 2008. This young and fresh brand has gone from providing budget accommodation solutions for backpackers to renting out luxurious, exotic properties to famous names. To what does it owe its success? Creating a marketplace environment that brings people together with a shared interest and a passionate community to help support the brand.
To establish itself in the travel and hospitality industry and to build its brand reputation, Airbnb harnessed the ability of their guests and hosts to share personalised stories with the rest of the world. Chesky, Airbnb's CEO, stated that "Nothing can express our identity more profoundly than the stories of people who make up this community." 
Airbnb was able to appeal directly to its customers' emotions, forging this sense of belonging and community with its company mantra: belong anywhere. Combining this sentiment with its iconic logo and brand identity, Airbnb is now recognised immediately throughout the world. Airbnb is now estimated to be worth about $38 billion and has hosted around 400 million guests since its launch. Not a bad achievement after just 12 short years.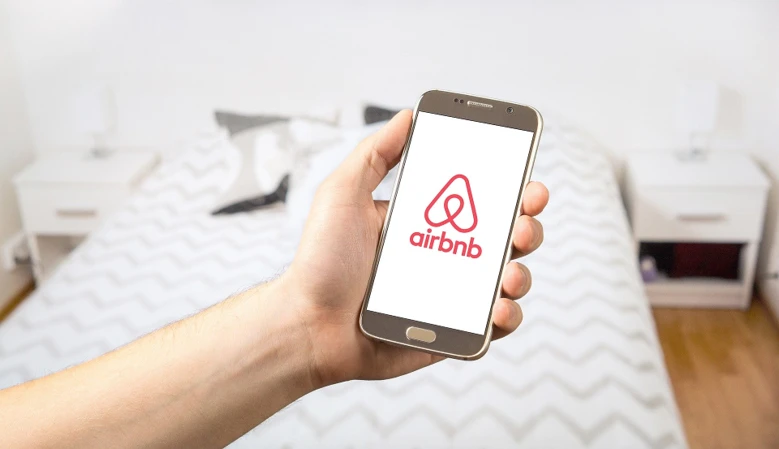 2. Netflix
Few would disagree that this iconic brand deserves a place on the list. Netflix is a streaming service with a difference: it keeps the needs of the consumer at the very heart of what it does. From delivering an excellent user-experience and freeing us from the advertising yoke to playing a pivotal role in changing our TV habits seemingly for good, Netflix is loved the world over.
Netflix combines a social and fun brand voice with its all-too-clever social media marketing campaigns to appeal to its prime audience of 18 to 35-year-olds. With millennials, the brand's biggest demographic, Netflix stands out from the crowd with its tongue in cheek messaging.
Taking advantage of the "Netflix and Chill" phenomenon and pioneering the binge-watching movement, Netflix's ability to understand its audience and provide genuine value is what sets it apart.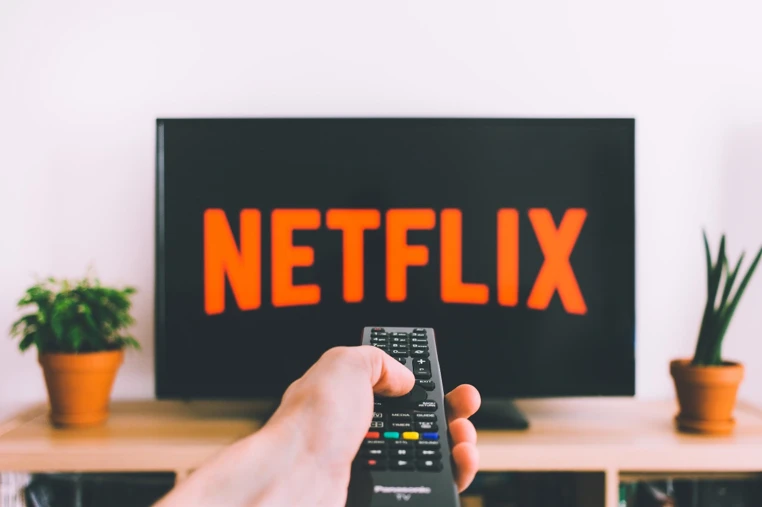 3. KFC
On the 26 February 2018, the UK went into meltdown, when the original purveyor of Kentucky fried goodness announced a national shortage of its vital ingredient: chicken. The crisis led to the temporary closure of 600 stores and feathers flying among panicked customers the length and breadth of the UK.
How did the fast-food company deal with the blunder? KFC didn't flap in the face of such a poultry effort on the logistics front and, instead, opted to keep things light-hearted.
KFC UK released a statement, starting "The chicken crossed the road, just not to our restaurants…" and got a few laughs. But the icing on the cake, or should we say the batter on the chicken, was the official apology advert which displayed an empty KFC bucket with "FCK" written across it.
This very cheeky ploy worked wonders as people flocked to social media to praise the firm, leaving its established reputation intact despite the issues. Not only this, but KFC's clever marketing strategy helped the brand to become more relevant in modern times. 
Consumers and fellow businesses were starting to feel that KFC became removed from its core values. However, combining risk-taking advertisements with the feeling of nostalgia and fast-food comfort that we associate with the brand, KFC was able to once again grab the attention of the modern consumer. 
4. Dollar Shave Club
How do you take a brand new business name and make it one of the most mentioned businesses in the men's grooming industry? You go viral, of course. Michael Dubin, the founder of Dollar Shave Club, understood the importance of humour and the integral part it plays in storytelling, using it to boost his business success.
In 2012, the shaving subscription company posted a sketch on YouTube that cost just $4,500 to make and a single day to shoot. In just 72 hours after the upload, the video entitled "Our Blades Are F**cking Great" had gone supernova. From hilarious punchlines, jokes to suit a variety of tastes and great use of storytelling, this video ad was able to appeal to a large audience. 
It also helps when you know your audience well. Talking to their audience, mostly consisting of males, in a laid back, relatable voice, DSC was able to directly appeal to their existing fanbase, as well as attract the attention of new customers. 
In the first 48 hours, over 12,000 people signed up for the service. A prime example of how you can take something as mundane as shaving and make it into something that a large audience remembers. 
5. Innocent Smoothies
We all remember "the dress" argument that divided social media users around the world. A photo of a dress went viral as users argued over whether it was blue and black or white and gold. It seems Innocent Smoothies mined a similar vein with the release of their new drink, Bolt From The Blue.
When Innocent announced the release of its new blue drink on social media, users took to Twitter to argue that it was in fact green. This sparked an idea in the brand's marketing department and it began replying to users' tweets in the most hilarious way.
This wasn't a short-lived stunt for Innocent, though. From hiring Duncan from Blue (we see what you did there) to further promote their blue drink and delivering content on multiple platforms, including YouTube, Innocent continued to run with this clever campaign for a series of weeks.
Taking no prisoners, Innocent stood by its assertion that the drink was blue and even wrote a sassy reply to paint company, Dulux, saying "Don't you start, Dulux. It's blue and you know it." This marketing stunt was an internet sensation, proving that brands can have fun and get creative with their online engagement. 
Were you team green or team blue?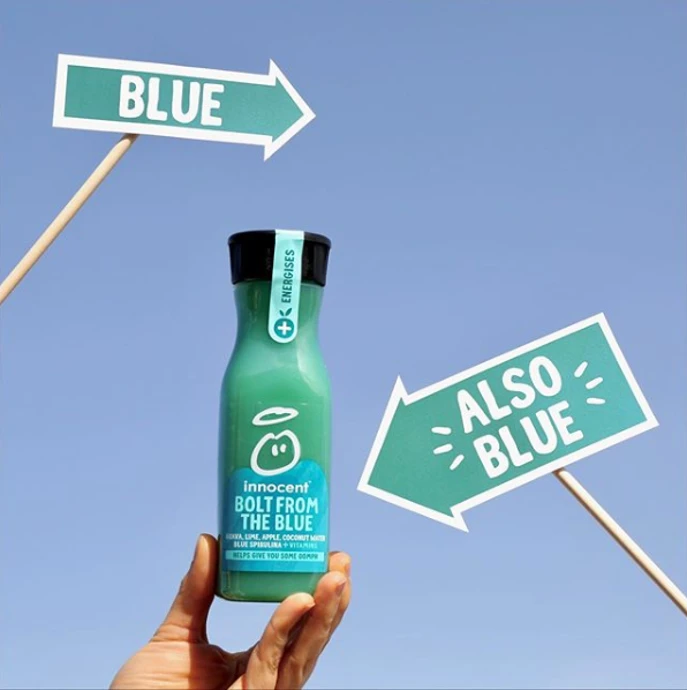 Beyond this clever and rather entertaining marketing campaign, Innocent Smoothies have already stood out as an amazing brand. With their conversational tone and off-beat quirkiness that appears not only on their social media but on their product packaging too, as well as their ability to create healthy yet tasty drinks, Innocent Smoothies are a well-loved brand in British households. 
If you've ever seen a cute, knitted hat on an Innocent Smoothie bottle, this is another example of a brand using their established presence to support a wider cause. Every year, Innocent runs their "Big Knit" campaign, which often sees over 1.5 million hats knitted to help raise money and awareness for Age UK.
6. John Lewis
Christmas and John Lewis go hand in hand these days. The brand ousted Coca-Cola from the Christmas advert top spot and created a phenomenon we have all come to know and love. Every year, thousands of people across the UK wait in anticipation of the new John Lewis Christmas advert, turning it into what feels more like a Christmas tradition than a standard marketing campaign.
John Lewis decided to use emotional marketing and storytelling techniques in its Christmas ads, discarding the "Toys R Us" ad style that throws hundreds of toys at you in 30 seconds to, instead, create a new genre of TV adverts.
Its year-on-year sales for that five-week period exploded by 44.3%, and John Lewis was able to further capitalise on the success of its adverts every year by selling merchandise themed around each ad.
7. McDonald's
Sometimes, all a brand needs to do to retain its customers and remain one of the most renowned companies in the world is to keep it simple. McDonald's have adopted this exact approach with the way in which it reaches out to its target audience.
With a deep understanding of its customer demographics and of exactly who it's trying to reach, McDonald's appeals to everyday people with its simple and relatable TV advertisements.
Conveying a message of reliability, quality and togetherness, McDonald's uses its adverts as a way to remind you that the Golden Arches are always there for you. Whether you're having random cravings for the classic burger pickles at some ungodly hour of the night, or you need a quick coffee at the crack of dawn, you know McDonald's is never far away.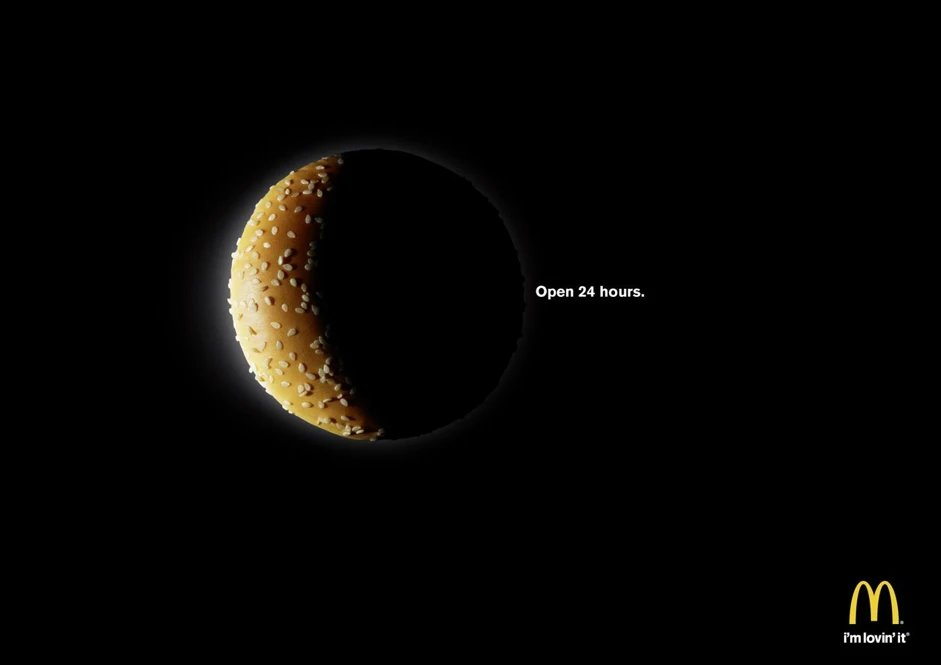 8. Domino's
Following on from McDonald's relatable marketing, Domino's is another great example of a brand that understands its audience, as demonstrated by its "JOMO" campaign. Domino's seems to understand the pressure of Friday night plans and the sense of FOMO (Fear Of Missing Out) that some of us feel if we choose to stay home.
Instead, Domino's inspired its audience to instead embrace the Joy Of Missing Out and enjoy the comfort of sitting at home with a classic Domino's pizza, now the "Official Food of JOMO".
Reassuring its audience that they're fine where they are, Domino's showed that they just want people to be comfortable and experience a good night in, instead of succumbing to the pressure that we should always be out doing something else.
It seems Dominos are far more than just supporters of the quiet Friday night in, as they are now considered "The Official Food of Everything." By specifically marketing around national days such as Valentines Day or New Year's, Dominos have established themselves as the go-to fast-food joint for every occasion.
9. Tesla
Regardless of whether you're a car enthusiast or not, you would have heard the name Tesla either on social media, TV or simply by word of mouth. This just goes to show the success of its marketing efforts since launching in 2003.
Despite being far younger than market competitors, such as BMW, Audi and Chevrolet, Tesla now ranks amongst the top 3 most mentioned car brands on Twitter. This success is put down to both the popularity of Tesla's CEO Elon Musk and their Livestream events by many commentators.
Essentially, Tesla skyrocketed its way to being to one of the top brands in the world by simply keeping its audience engaged. Consumers need regular communication and consistent messaging across touchpoints to nurture them along their journey and, it seems, Tesla has got this right first time around. 
10. Greggs
When you think of Greggs, the chances are you'll think of sausage rolls. However, for the hundreds of thousands of people in Britain who follow vegan and vegetarian diets, that particular food item is off the menu. But Greggs made a conscious effort to listen to the needs of its customers and has now filled a huge gap in the market for cheap, "on-the-go" vegan products.
The release of its vegan sausage roll last year was a huge success, starting conversations and sparking controversy in some quarters. But it also contributed to significant profits at the end of the year - so much so that the company rewarded all of its staff with a bonus and launched a follow-up vegan steak bake to similar acclaim. 
Not only does this demonstrate Greggs as a leader in the fast-food industry, a brand that responds to emerging trends but it also highlights a company that cares for its employers and strives to treat them well. 
Greggs' popularity has been formulated over many years due to their marketing strategies. PR has been one of their key marketing efforts over the years, with Greggs performing memorable marketing stunts to better place themselves in front of consumers.
From going undercover at London Food Festival under the name "Gregory and Gregory" to turning negative publicity into something positive, it seems Greggs have utilised PR to drive their brand forward over the years. 
And there we have it, our top 10 brands of the decade. Each of them has demonstrated leadership in their industry and dedicated time and resources to understanding their markets so as to build the strength of their identity.
Are you looking to grow your brand in 2020? Get in touch with us today.