Held on Thursday the 11th of October at Leicester's iconic King Power Stadium, this year's Champions Rugby Dinner saw an array of celebrities come together in raising valuable funds for a charitable cause. Featuring keynote speeches from top sporting icons, a Q&A session, a champagne reception, a charity auction and an exciting game of stand-up bingo, the event's proceeds directly supported Rainbows – a children's hospice based in the East Midlands.
Having provided crucial support to life-limited children, young people and their families for more than two decades, the Rainbows children's hospice has played an important role in creating happy memories for those who need it most. With only a fraction of the charity's funds coming from government funding, the Champions Rugby Dinner was held to give the charity the support it needs to continue its life-changing work.
Hosted by 'the voice of rugby' Ian Robertson, the event attracted many notable names from the world of sports and entertainment. One of the evening's special guests, rugby legend Martin Johnson CBE, participated in an entertaining Q&A session alongside Ian, providing fascinating insight into his extensive career at the forefront of the sport. In addition, the occasion also saw the appearance of former Rugby Union player Gareth Chilcott, whose inspiring speech functioned as a central component of the event.
As if that weren't enough, the accompanying charity auction was led by none other than legendary auctioneer and media personality Charlie Ross. Widely known for his auctioneering expertise as well as his appearances on programmes such as Bargain Hunt, Antiques Road Trip and Put Your Money Where Your Mouth Is, Charlie's presence helped to spur bidders on to raise crucial funds for charity. Last but not least, the event also featured an exciting game of charity bingo, treating guests to an evening of fun-filled entertainment.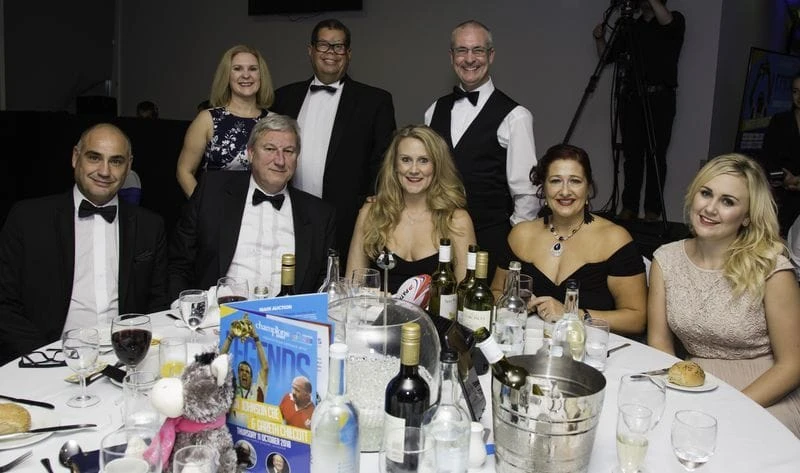 The 2018 Champions Rugby Dinner proved to be a raging success. Thanks to the efforts of our audience and special guests, the event looks set to be a valuable addition to the charity fundraising calendar for many years to come.
If you would like to find out more about the work conducted by Rainbows, please visit the charity's website.