Guerrilla marketing has helped shape some of the most memorable and surprising marketing campaigns of the 21st century. Since its inception, it has left adventurous and commercially-savvy marketers unafraid to do things a little differently – and the results have been spectacular to say the least.
In this article, we'll take you through the many highlights that have helped shape the history and future of guerrilla marketing as we know it. But before we do so, let's first take a quick look at what defines guerrilla marketing in the first place.
What Is Guerrilla Marketing?
For most people, the term 'guerilla' will conjure up images of revolutionaries, battlegrounds and opposition to the status quo.
Whilst guerrilla marketing is undoubtedly much more light-hearted than that, it does often involve a resistance to traditional marketing approaches in some shape or form. As such, this specific form of marketing is all about going against the grain.
Although there may not necessarily be a catch-all definition that can qualify any campaign as being 'guerilla', guerilla marketing campaigns almost always make use of unconventional methods to reach their audience in a way that minimises cost and maximises impact.
The Rundown: The Biggest and Best Guerrilla Marketing Campaigns
Now that we've covered what roughly defines guerrilla marketing techniques, it's time to take a look at some of its most inspirational examples. Here goes.
1) Fitness First: Visualised Body Weight
We're jumping right in there with what is arguably one of the most direct and risky advertising campaigns ever to have seen the light of day.
A collaboration between fitness brand Fitness First and the Dutch creative agency N=5, the campaign saw commuters resting on a bus stop bench confronted with their body weight. Confrontational? Perhaps. Impactful? Absolutely.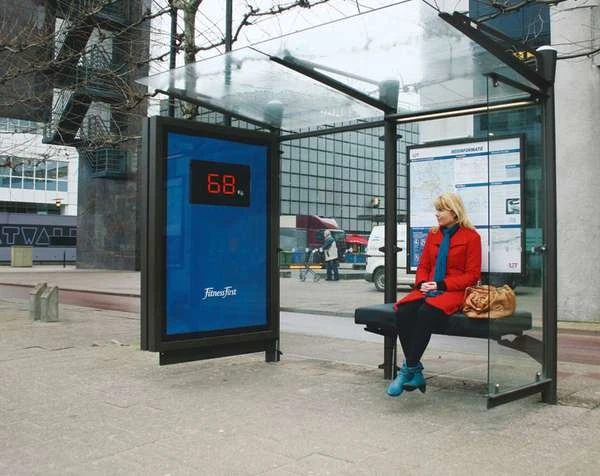 2) The Nintendo Wii: Character Post Its
Nintendo's reputation as a giant of global gaming hasn't stopped their willingness to think outside of the box.
Embarking on the campaign in support of the launch of the Nintendo Wii, the company made creative use of post it notes to recreate some of our favourite Nintendo characters. That's Paper Mario in the literal sense.
3) Vodafone: Professional Pickpockets
Another daring one to say the least. Illustrating the average person's vulnerability in keeping their phones safe from thieves, Vodafone opted to hire professional pickpockets to place promotional flyers in people's bags and wallets.
What were they promoting? Their phone insurance plan of course. Just goes to show that some of the best advertising campaigns combine a powerful message with a clear commercial objective.
4) Beau Rivage: The Swimmable Baggage Belt
Baggage belts aren't exactly the most exciting part of your travel itinerary, but the Beau Rivage Resort & Casino found a way to spice them up nonetheless.
Part of a marketing campaign to promote the property, the campaign transformed a simple baggage carousel into an exciting virtual swimming pool. Complete with swimming guests and on-brand slogans, the campaign successfully conveyed a message of calm and tranquility.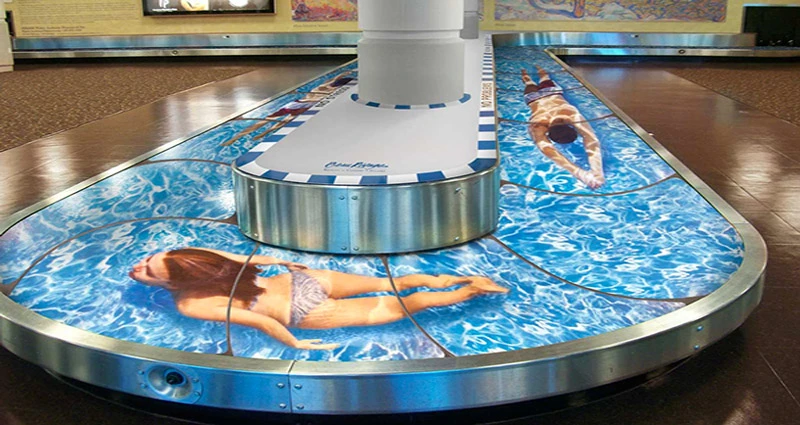 5) The Samaritans: Strategically-Placed Bookmarks
The cost-effectiveness of guerrilla marketing is one of its most important benefits, and this campaign for Samaritans identified a discreet and low-cost way of reaching out to those in emotional distress.
Strategically placing bookmarks inviting readers to speak to a Samaritan, the charity's bookmarks could be found in libraries, supermarkets and just about anywhere else. A great way of drawing attention to an important matter.
6) Kleenex: Nasal Congestion Soap
Paper product brand Kleenex found a clever way of promoting their products in the fight against nasal congestion.
Making use of stickers placed on the liquid soap dispensers found in public toilets, the campaign created the illusion of soap being dispensed straight from the nose. A little off putting perhaps, but undoubtedly stellar in its creativity.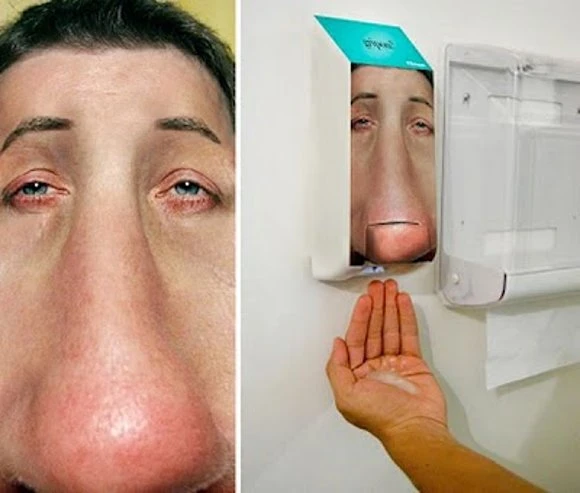 7) Stop Global Warming: Unexpected Life Jackets and Lifeguards
Oddly-placed life rafts, life jackets placed under public benches and lifeguards on duty in the middle of the street – all of these things were made into a reality as part of the Stop Global Warming campaign.
Illustrating the importance of dealing with environmental challenges, the campaign found creative ways to show the potential impact global warming could have. Most definitely food for thought.
8) Spider Man 2: The Suspended Urinal
Promoting the release of the renowned blockbuster Spider Man 2 back in 2004, this campaign saw bathroom goers confronted with a suspended urinal only Spider Man himself could reach.
Helping to drive further anticipation prior to the film's release, the campaign is a prime example of how just a little bit of wow factor can go a long way in capturing an audience's attention.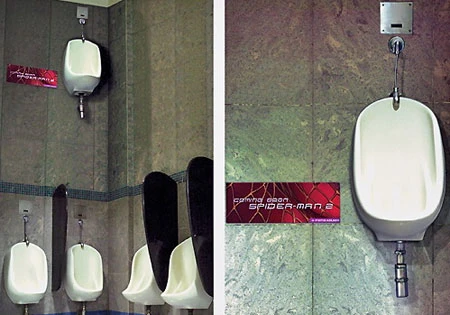 9) Nikon: Red Carpet Glamour
Camera and photography multinational Nikon certainly knows how to put their audience in the spotlight.
Their creative marketing campaign involved placing red carpets and paparazzi-filled banners in public places, making passers-by feel like A-list celebrities. Quite an original way of showcasing their products.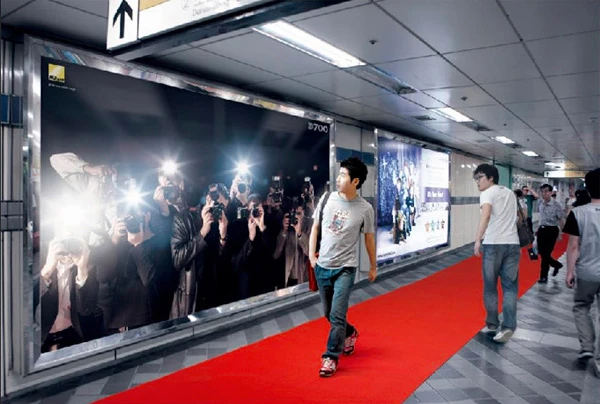 10) Discovery Channel: Shark Bite Surfboards
A guerrilla marketing campaign by The Discovery Channel saw the broadcaster celebrate their iconic Shark Week in style.
Surfers were greeted with truly unique surfboards with a massive shark bite as the most prominent feature. Terrifying to say the least, but isn't that what Shark Week is all about?
11) Campaign Against Landmines: Landmine Ketchup
Drawing attention to the continued presence of deadly landmines in many countries around the world, this advertising approach by The Campaign Against Landmines is undoubtedly thought-provoking.
Making use of ketchup sachets to illustrate the devastating injuries caused by landmines, the initiative conveyed a powerful message in an equally powerful way.
12) Lipton: Tea (Carrier) Bag
Lipton teabags are a staple of many a morning ritual. Building further upon their popularity, the brand famously recreated their trademark teabag in the form of a striking give-away carrier bag.
Pleasing tea drinkers and fashion trendsetters alike, Lipton's guerrilla marketing campaign helped to bring the humble teabag out of the kitchen cupboard and into the public spotlight.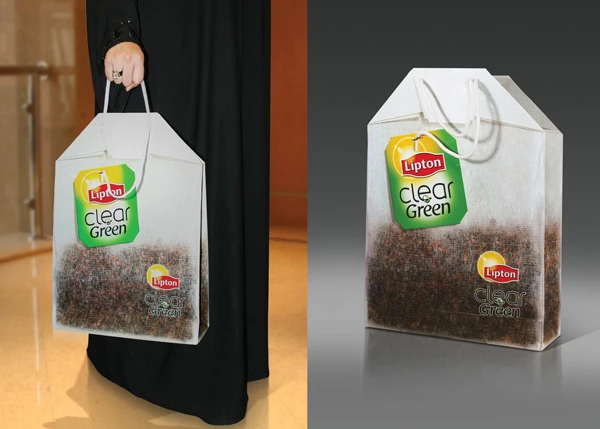 Contact Champions Digital
Want to learn more about how we can help you step up your marketing game? Get in touch with the Champions Digital team via [email protected] or call us directly on 0845 331 30 31.