The marketing industry is awash with terms like 'loyalty', 'trust', 'engagement', and most recently we've seen the emergence of a little something called 'love'.
Brand love is something that keeps many marketers awake a night. They wonder how they can make consumers fall in love with their brand and then retain their loyalty.
But is brand love really a thing?
The answer is yes. Over the years, we have seen certain brands excel in this area and now, thanks to building strong relationships with their consumers, the likes of Apple, Disney and LEGO have mastered brand love. Their consumers are truly invested in their brand and in turn, they have continued to dominate their markets.
Research has shown that people create connections with brands that are as deep and as emotional as the relationships we have with our nearest and dearest. In some instances, super fans have gone as far as getting a tattoo of their favourite brand logos or even camping out overnight to show their dedication. Think of those hardcore Apple fans who would actively go to war to defend the brand against any Android fan.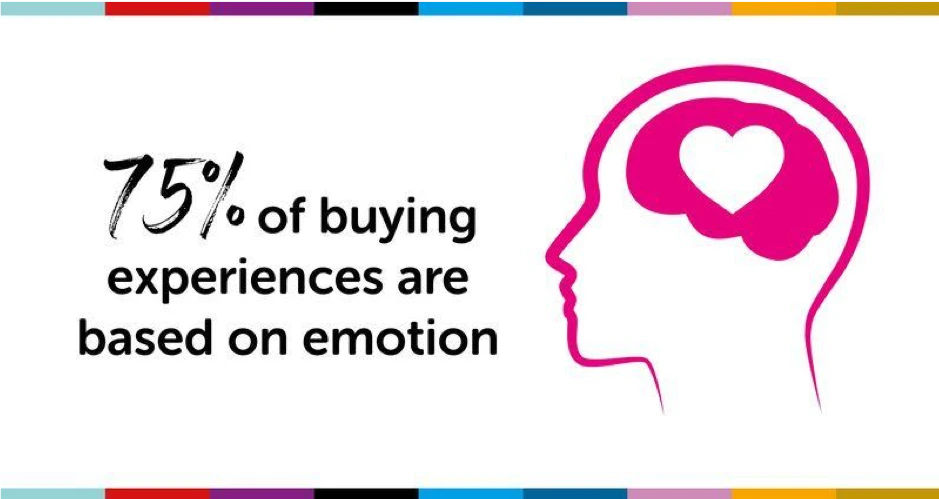 The power of these relationships is the emotions that consumers invest into them. Today, 75% of buying experiences are based on emotion. So if a brand can evoke any kind of emotion when reaching out to consumers, they are already more likely to turn more people into valuable customers.
We all understand that brand loyalty is priceless. But something that many fail to grasp is what makes someone fall in love with a brand.
According to a study by Brand Love Index, there are six key drivers of brand love. These six factors are the secret building a brand that everyone loves and if each point is considered, there is no reason why a brand shouldn't be successful.
So what is the secret to creating brand love?
1) Exceed Needs
In the study, the idea of exceeding the needs of consumers contributes to 32% of the overall 'brand love' score. The means brands need to constantly outperform, over-deliver and always anticipate what their customers needs in order to stay ahead of their competitors. They need to be a brand like no other.
Whilst fulfilling consumer needs is nothing new, the idea of going above and beyond is something that separates the elite from the good. Businesses that look purely for profit will never care for their customers in the same way as a brand who cares about providing a service and a positive experience.
These same profit-driven brands will also never achieve brand love. Their customers soon lose their loyalty as soon as better option is presented. The moment another company shows that they have more to offer and simply care, all loyal is lost.
To ensure you retain your customers, always love them first. Put their needs at the heart of everything you do and show them you care. Afterall, a little love can go a long way.
2) Build Trust
Unsurprisingly, the same study also revealed trust to be the second biggest driver - showing that without trust, there is never going to be any love.
Trust and credibility has always been the secret to success but this now more important than ever before. With the younger generations growing up in a world where honesty and transparency is expected, they no longer take brands at face value. Instead, they tend to look beyond the adverts, and often switch off if they feel that they are 'being marketed to' or if they suspect a brand is portraying fake values.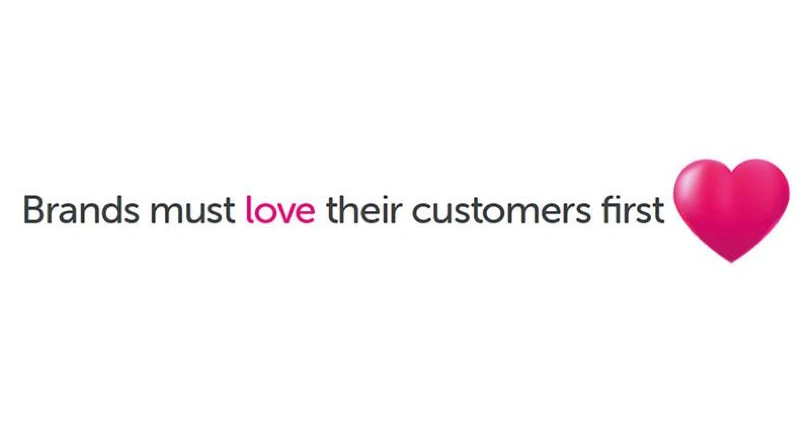 So before your next campaign, take a minute to consider whether you're doing something that builds trust or raises questions about your motives. Remember, trust and reputation takes years to build but seconds to ruin.
3) Set Trends
Today brands have become a way to define yourself. People are no longer buying something simply because they need to. They buy it because, yes, they want it, but they want it because it stands for something.
Millennials continue to demonstrate how buying products made by a specific brand can be interrupted as so much more. They actively endorse brands to create a perception and a 'cool' image to their peers. They want to 'fit in' and as a result, the coolest brands are also the most profitable.
Apple, Nike, Aston Martin, Netflix, Spotify , Airbnb, GoPro - these are just some of the brands to have been named in the official list of Britain's coolest brands. And, it's no surprise that many of these are also named as the most successful businesses.
As humans, our desire to be accepted and part of something will never fade. We all want to be seen as 'cool' or 'fashionable' and whether we are looking to follow or set trends, brands that help us to do this will be ones that we love.
4) Share Values
We now live in a world where we freely express our views and opinions and this something that is continuing to shape the marketing world.
A recent study has shown that two-thirds of consumers worldwide will make a purchasing decision based on a brand's social or political position. This new wave of belief-driven buyers are forming deep connections with brands that share values similar to their own and this is extremely powerful.
For example, after Nike famously featured American footballer Colin Kaepernick in their 'Believe in Something' campaign, sales went up 31%.
Whilst many brands are still wary of taking a clear stance on major societal or political issues, it is clear that those who are, are seeing great benefits. In fact, the same study states that 60% of consumers say that brands should make it easier to see what their values and positions on important issues are when they are about to make a purchase.
5) Elevate Experience
Experiences are always something that we remember. Whether they are good or bad, we remember specific encounters that we have had in our lives. 
When it comes to brand love, creating a memorable experience for your customers is what can take them from being completely unaware of who you are to massive fans. From one positive experience, they are already more inclined to remember you and come back for more. What's more, if you can provide an extraordinary experience that is like nothing they've ever experienced before, you are already exceeding your competitors creating positive emotions.
6) Respect Your Consumers
As in any relationship, everyone wants to feel valued and respected. The same goes for your consumers.
Demonstrating respect and appreciation is something that is easy to do but hard to control when you're not the person talking directly to your consumers day in, day out. Ensuring your marketing team are hot on responding to consumers online is one of the best ways to build and mend customer relationships. A simple tweet to acknowledge their comments is a simple and effective way to show you're listening.
Loyalty schemes are an old classic and should never be overlooked as an effective way to keep customers happy. Consumer love to feel like they are getting something back and offering a reward scheme can do exactly that. What's more, the idea of working towards a reward can help retain customers and keep them engaged.
Finally, sometimes it is the small things that show you care. Whether it's a birthday treat, Christmas gift or a simple thank you, giving your customers something for free is a great way to make them feel special and rewarded for their loyalty.
Live by The Touchpoint Theory
The Touchpoint Theory is something that I've always abided by and it continues to play an essential part of creating brand advocates for many of our clients.
Ultimately, the theory is built upon taking your customers on a journey; going from having no brand awareness whatsoever to become valuable brand advocates.
In order to do this, you need to provide the perfect customer experience before, during and after purchase. Whilst this journey will differ with every company, the goal remains the same - interactions lead to action, action leads to customers, customers lead to sales.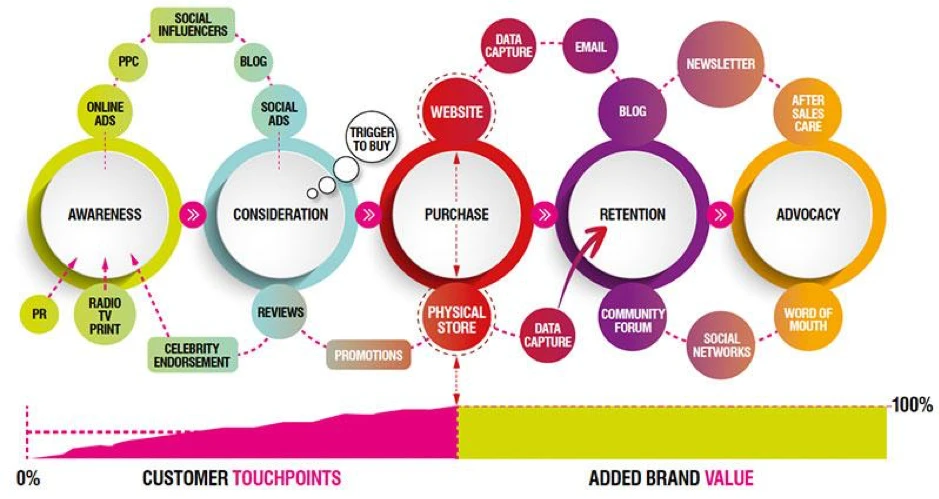 Over these 15 touch points you need to build awareness, gain trust and demonstrate exactly why they need your products. With so much competition in the world today, hitting all of these touchpoints is essential to your success of building brand love. You need to create a strategy that keeps your brand in front of the right audience and makes the necessary steps to form and neuter consumer relationships.
Once you identify and understand your customer touch points, you can create positive experiences that embrace all of the things need to develop brand love. Whether it over social media, on your website or through your after care service, you can incorporate the 6 factors that make consumers fall in love with your brand, into your marketing strategy.
The Future of Brand Love
Today, it's no longer about people who 'like' your brand, it's all about those simply love it. Customer loyalty can be worth 10 times as much as a single purchase, so taking the steps to build brand love is something that every marketer should be focused on.
What's more, as consumer behaviours continue to change and businesses battle to succeed in a competitive market, customer loyalty remains as the secret to future success. The rise of voice search, for example, will undoubtedly add pressure and importance to brand awareness, and make it absolutely crucial for brands to ensure it is their name that comes to mind when thinking of buying a particular product or service.

The brands that get this right will reap the benefits in the form of brand-related search queries. Much like, let's say, the vacuum cleaner, which has become synonymously known as the 'hoover' by consumers. But Hoover is actually a brand of vacuum cleaner that, though some very loveable branding, has established itself as a product.

So, when someone asks their Alexa or Google home to find them 'a hoover', the hoover brand is already in the minds of the consumer; thus giving them a competitive advantage right at the very start of the customer journey.

Our world may be changing, but the core principles of developing consumer connections will continue to remain the same. Love is, and always will be, at the very heart of building a successful brand.

Find out how we can help you to build your brand love. Contact our team of marketing experts today!