2020 has demonstrated the importance of online presence and more importantly, taking your business online and adapting strategies to focus on the digital aspects within your industry. But with so many choices and opportunities for both beginners and established websites, which is the best platform for an ecommerce store?
Not much different from a physical retail store in terms of functionality, an ecommerce site just takes this process online.
In today's world, we have progressed so much in the digital industry, that everything and anything can be done with one website.
So, if you're an ecommerce business, or even thinking about setting one up, choosing the best online ecommerce platform can quite literally make or break your business before it's even had the chance to take off.
Let's get into the good stuff...
BigCommerce
Aimed at small and medium-sized businesses, BigCommerce provides them with a way to create an online store.
Skullcandy, Camelbak and Pandora are all brands that use, or have used BigCommerce as their chosen ecommerce platform.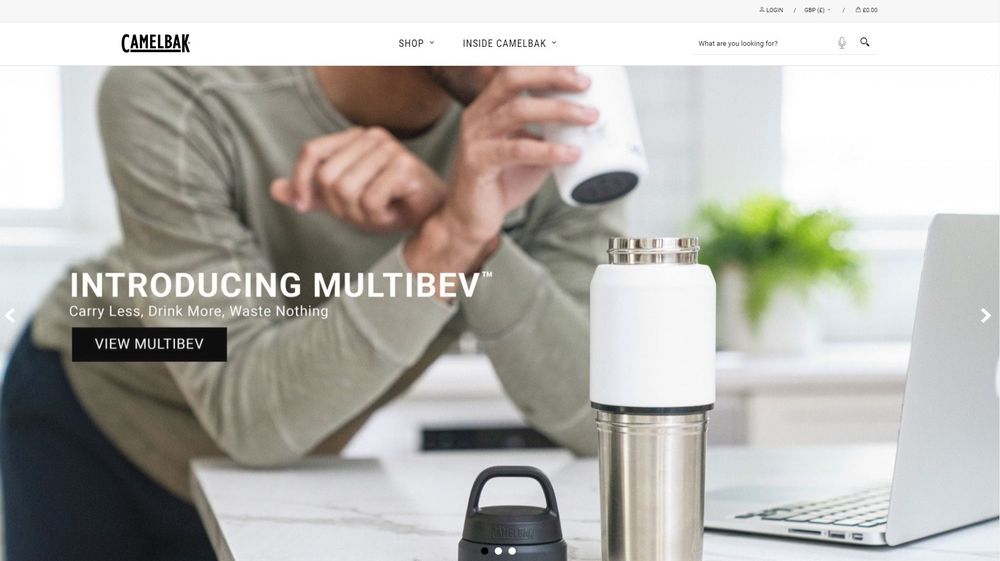 Source: https://www.camelbak.co.uk/
Advantages
Customisation
BigCommerce allows businesses to quickly and easily create an online destination to sell products, process and ship orders as well as allowing you to manage stock and customise the design on the website.
Mobile friendly
Not only that, but it is completely mobile friendly. In 2019, 43% of online shoppers used their phones to purchase products and we expect this to have increased further, making this a crucial factor of the platform.
UX and SEO
BigCommerce was the first ecommerce website to integrate Google's AMP into an ecommerce, simplifying category and product pages whilst improving user experience and SEO.
Support
Offering 24/7 support, this is a feature worth noting. BigCommerce provides businesses with peace of mind that any issues will be resolved quickly and efficiently, preventing any interruptions to the site.
Omni-channel technology and payment gateways
BigCommerce allows your site to elevate omni-channel technology, which can help drive more traffic to your website, leading to a boost in sales and revenue. It gives businesses the flexibility to integrate into places including the most popular online retailers, Amazon and eBay. By doing so, you will build a lengthy client base and attract new customers to your stand-alone site.
As well as this, there are a variety of payment gateways available to use, including PayPal and Google Checkout.
Disadvantages
Cost
The price you pay for BigCommerce largely depends on your company's annual online sales, so be sure to read the small print and think about which plan suits the needs of your business best.
Limitations
There are a limited number of free themes on BigCommerce, meaning that it may end up costing you more to get your desired look.
Be mindful that BigCommerce is aimed at small to medium-sized business, so if you're already at a high level within your industry or field, it might be wise to choose a platform that can provide you with room for even further growth.
Magento
Successfully integrating digital and physical shopping experiences, Magento is one of the leading ecommerce sites on the market.
Written in PHP, Magento creates smooth and seamless shopping experiences for users.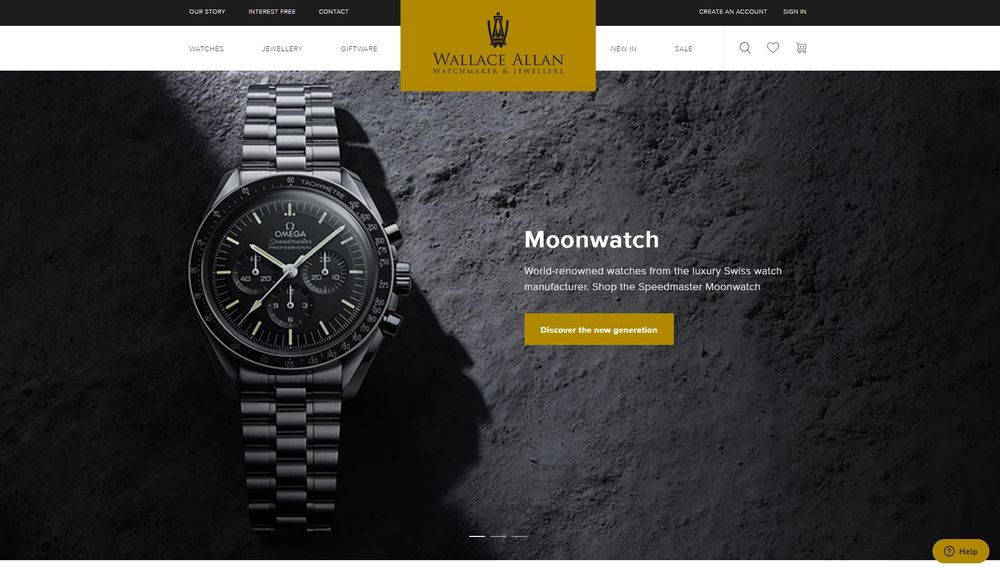 Source: https://wallaceallan.co.uk/
Advantages
Customisation and flexibility
Magneto is an open-source platform, meaning that businesses can customise and modify their site to the needs of their business. Also allowing third-party integration, flexibility is the biggest bonus when using Magneto.
Thie ecommerce platform also allows for multi-site support and functionality, providing businesses with the opportunity to use multiple domains.
Features, applications and UX
Magento has an abundance of features that are readily available to businesses to use and enjoy whilst improving user experience.
It is also easy to integrate third party applications such as Klarna, Apple Pay, PayPal, Google Shopping and more.
Support
With such a large community of users, there is plenty of help on hand to offer support quickly and efficiently. As the ecommerce site is so widely used, there are a plethora of resources to resolve any issues or answer queries.
Magento also offers multi-currency and language support.
Mobile friendly
As well as this, Magento is scalable, meaning it can support businesses from small start-ups to global enterprises. The platform is also mobile friendly, which is crucial in this day and age.
Disadvantages
Cost
You do have to pay for the premium, enterprise version of Magento, however, an ecommerce site should be seen as an investment, as opposed to a cost, and it will definitely pay off.
Complexity
There aren't many developers trained in Magento due to its complex understanding. However, here at Champions (UK) plc, we have a whole team of full-trained Magento experts who are able to meet the needs of any client or business with an ecommerce site.
VTEX
VTEX states that it is the 'first and only fully integrated commerce, marketplace and OMS solution that offers fastest time-to-revenue and no upgrades.
As one of the 'big dogs', VTEX is the chosen ecommerce platform for some of the world's biggest brands, including Coca Cola, L'Oreal, Samsung, Adidas and Disney.

Source: https://vtex.com/gb-en/
Advantages
Up to date
VTEX and its platform are constantly updating, ensuring that they're able to offer businesses the latest features and innovations to help them become even more successful.
Easy payments
As well as this, VTEX is connected with other services that aid the business to sell, including payment gateways, providers and services.
Stability
As a strong and stable platform, VTEX is able to withstand plenty of traffic which is crucial for the busiest retail days of the year, including Black Friday, Cyber Monday and Boxing Day.
Not only that, but the ecommerce site is fast, scalable and offers secure infrastructure and web API.
Customisation
As one of the leading ecommerce platforms in the world, VTEX has the ability to adapt to completely customised stores, and leads to higher conversion rates, stronger customer loyalty and lower total cost of ownership.
Disadvantages
Cost and functionality
There aren't too many disadvantages of VTEX, however some users have reported that the interface can be slightly difficult to operate.
The pricing of VTEX is also based on sales.
Shopify
Global brands such as Gymshark, Holland Cooper and Heinz are all users of the ecommerce site and in 2020, Shopify's worldwide sales during Black Friday weekend were up 76% on the previous year.
And although it is the leading ecommerce platform for businesses of all sizes, Shopify does come with a few disadvantages.
So, is Shopify the best ecommerce platform?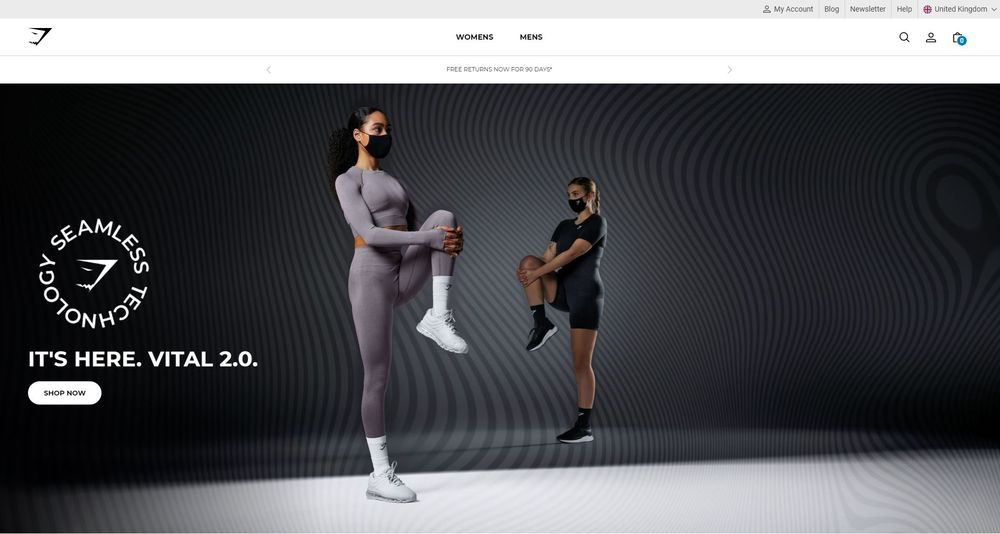 Source: https://uk.gymshark.com/
Advantages
Easy to use and complete solutions
First and foremost, Shopify is quick and easy to setup and use, meaning that you don't have to be all that tech-savvy to use it. It offers you a complete solution with no technicalities in regard to the hosting, as the ecommerce site itself provides the software and hosting.
Mobile friendly and professional
The templates on offer are professional-looking and look aesthetically pleasing, too. Not to mention it is responsive on mobile devices.
Customisation
With plenty of customisation abilities, Shopify can be integrated with a number of other applications, including Facebook, Salesforce and PayPal, providing the business with extra features.
SEO, easy payments and support
Shopify also offers safe and secure payment gateways, as well as provide a platform that is SEO friendly, making it easier for your business to get recognised.
Their customer service team are also available to offer 24/7 support.
Disadvantages
Extra costs
On face value, the cost of Shopify seems very reasonable, however there are extra costs to be paid if you would like extra features. Using other payment providers will also come at an extra cost.
Limitations
With limited themes and designs, your online store could end up look relatively similar to that of your competitors, which could mean you have a hard time standing out from the crowd and building your own brand recognition.
If you're looking to customise aspects of your website, you will need the help of a developer as simple customisation options are very limited.
WooCommerce
WooCommerce is a free plugin for WordPress, allowing you to turn your standard website into a booming online business.

Source: https://woocommerce.com/
Advantages
Free and secure
WooCommerce is a free and open source, meaning that businesses can customise their online store to suit their needs. And this also provides businesses with security that their site is safe, no matter what.
There are no extra or hidden fees with WooCommerce, including no transactions fees whenever you make an all-important sale. But bear in mind, that you will still need to pay any fees for using payment gateways, which are also easily accessible when using this ecommerce site.
Customisation and added features
The themes on WooCommerce are also very affordable, and they provide plenty of choice, too! Businesses can choose from free themes as well as premium versions that include features such as single-page checkout, upsells and cross-sells on product pages, mega menus and filtering options.
Control and functionality
WooCommerce provides businesses with complete control over their online store in terms of content and design. As well as this, it gives stores the ability to use add-ons, opening doors to many opportunities and helping with business growth.
The REST API is an important tool within WooCommerce, allowing businesses to read and write the platform's data. It also allows you to add extra layers of functionality to your online store.
Disadvantages
Speed
As a WordPress plug-in, and a big one at that, this can sometimes lead to a slight drop in speed as well as taking up space. The key to overcome this, is to invest in the right hosting plan to ensure a smooth and efficient process.
Coding conflicts and extra costs
To get the very best out of WooCommerce, businesses may want to upgrade to premium themes and features, resulting in an extra cost.
It might be wise to have a web developer on hand to help with any potential coding conflicts.
There are pros and cons to all ecommerce websites, however choosing the right one is pivotal.
When choosing the best platform for an ecommerce store, it is important to understand the current needs of your business and what will suit your situation best.
Consider your goals and take some time to look at which platform you think will help you achieve them.
If you're in need of some expert advice surrounding any of the ecommerce sites discussed, or you're seeking to turn your business into an online shopping sensation, then contact our team today at [email protected].